Click on the links below to learn how GlobeMed facilitates your workflow.
You choose what you see onscreen, and what stays hidden.
Each healthcare practice has developed its own particular style of working. That's why GlobeMed offers you true flexibility in choosing which of its many features you need and wish to see onscreen, and which ones you don't use and thus can hide from view.
When you're just beginning to use GlobeMed, we encourage you to display its basic features. Then, as your comfort level increases, you can 'turn on' more of the software's capabilities to increase its value as an informative, time-saving tool.
With GlobeMed software, you are always in control of the way you practice, not the other way around!
You decide who enters patient vitals and processes orders.
As a practitioner, does your assistant take each patient's vitals before they enter your examining room, or do you prefer to do it yourself? With GlobeMed, all data gets entered only once in the system – from any room in your office – and then immediately appears on the patient's Clinical Encounter Screen, ready to help you complete your assessment.
At the end of an encounter, do you prefer to handle the entire process of ordering lab tests or diagnostic imaging, or have your nurse assist you with the 'paperwork'? Either way, GlobeMed's easy-to-use Lab Requisition and Diagnostic Imaging screens allow for speedy completion of requisitions.
Write, sketch, dictate… it's up to you.
If you're most comfortable recording an assessment in words, GlobeMed provides a combination of 'pick-lists' and open text fields in which to record your observations.
Prefer to sketch the patient's complaint? GlobeMed's Image Library contains dozens of blank anatomical illustrations of the full body and individual body parts that you can quickly annotate, then save to the patient's Cumulative Patient Profile.
Finally, if you're used to dictating, GlobeMed fully supports optional Dragon™ speech recognition software that instantly translates your words into electronic text records.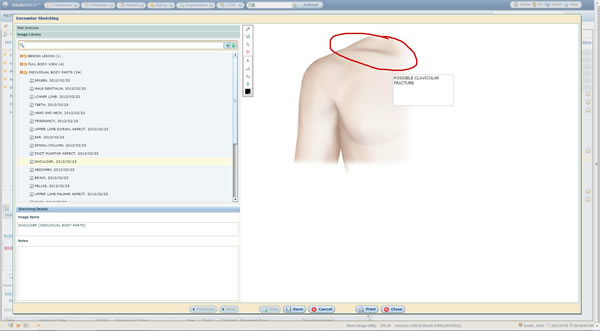 Track what's on your to-do list throughout the day.
Different practitioners manage their daily routine in various ways. With GlobeMed's Physician Dashboard, you can choose to see – at a glance, at any time, and from any computer in your practice – all the items that require your attention. From uncompleted tasks to newly arrived lab reports, GlobeMed makes it easier than ever to allocate your time the way you choose.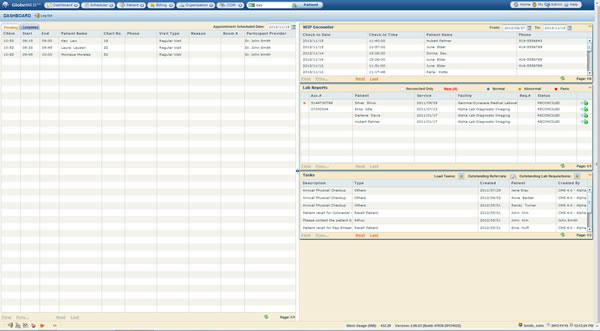 See your schedule with our customizable Day Sheet.
Some practitioners are used to carrying around a 'Day Sheet' – a printed listing of their schedule for the day. GlobeMed gives you tremendous flexibility in deciding what information appears on the sheet, in what sequence, and for what time period. There's even room on the sheet for you to record patient billing codes for later entry by your front-desk staff.
GlobeMed easily produces a copy of your schedule for several weeks to come, so that you can advise a patient sitting in front of you when you'll be available for a follow-up visit.